About Sebewaing Tool & Engineering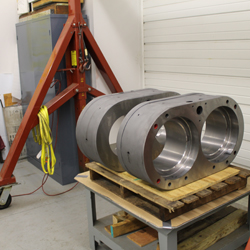 Sebewaing Tool and Engineering was established in 1937. We have a steadily growing customer base located throughout the U.S., Canada, Europe, South America and Asia. We're located along Saginaw Bay, 50 miles northeast of Saginaw, Michigan and 100 miles north of Detroit. With an emphasis on quality and innovative solutions to difficult manufacturing problems, we look forward to meeting your challenge with a prompt, cost effective solution.
We were recently awarded the "I-69 Exporter of the Year" for Design-Build Heavy Machinery, in the state of Michigan for our involvement in the Michigan automotive industry, but we regularly ship to locations over the US, and we export to The Netherlands, China, Kuwait, Korea, Thailand, Brazil, Canada, and Columbia.
Sebewaing - Engineering
Sebewaing Tool and Engineering supports stamping and metal cutting companies with mechanical design and build services. Our staff of 40 highly skilled Engineers, Designers, Tool and Die Makers, Machinists and Certified Welders provide a full range of engineering, design, manufacturing, (forging, heat treating, grinding, non-destructive testing, shot peening, ion-nitriding, Colmonoy coating, silver plating, etc.) and testing and repair services, including in-the-field technical support. From pumps and pressure vessels, to size reduction equipment and flow control hardware, your project will be given the full benefit of Sebewaing's comprehensive resources. Every order is processed with an emphasis on quality and service, and building mutually beneficial, long term business relationships
Sebewaing – Flow Control
The Sebewaing Valve Hardware Division designs and manufactures all types of high quality bracketry and mounting hardware, for actuators, positioners, limit switches and other valve accessories, for the chemical/petrochemical, water/wastewater, gas, oil and food industries. Our experienced engineers, designers, and skilled technicians provide a full range of services and technical support. With over 10,000 designs to date, we have been a leading supplier, with customers located throughout the world. We can produce any quantity, using any material, and with competetive pricing.
Sebewaing – Plastics
Sebewaing Tool and Engineering is a supplier of Pumps, Mixers, Granulators, Strand Die Assemblies, etc. to the petrochemical (plastics)processing industry. We specialize in large capacity equipment built to our own or proprietary customer designs. All components are manufactured, assembled and tested in-house. We've been an innovator in plastic strand pelletizing cutter technology for over 50 years. We originated the true helical cutter head having hard faced cutting edges and have also patented a true helical tungsten carbide cutter for higher wear resistant applications. Other patents have included a portable strand testing unit used to analyze cutting geometries. Related services include strand pelletizer rebuilding, and upgrading.