Melt Pumps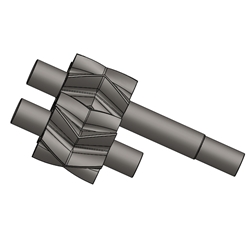 For over 70 years, Sebewaing has been a trusted world-wide supplier of quality and innovative petrochemical melt pumps for discharging reactors and devolitalizers, product transfer, pressure boosting, extrusion, compounding, and metering of medium to high viscosity polymers. From our facilities in the USA, we manufacture some of the largest petrochemical melt pumps in the world.
Our pumps typically operate at temperatures of up to 600° F with discharge pressures of up to 5000 psi., with process heating technologies that include hot oil, steam, and electric. Fabrication materials include alloy and stainless steel, as well as other high temperature and corrosion resistant alloys and hardfacing technologies.
Bearings are plain, or sliding bearings and are "product lubricated", which provides continually refreshed lubrication for extra-long service life. Available shaft seal technologies include viscoseal, barrier fluid, packing, lip, and mechanical. Optimized housing inlet geometry allows efficient flow of high viscosity product into the pump even under vacuum on the inlet. Sebewaing pumps include design features to reduce air intrusion into the pump for vacuum service.
A Leader in Melt Pump Technology
As a leader in the development of CNC milled gear teeth, Sebewaing provides spur, helical, or herringbone pump rotors in a vast array of involute geometries to optimize volumetric capacity, efficiency, tooth filling, sealing, evacuation, and power transmission. Herringbone gear teeth provide smooth, pulseless discharge and eliminate rotor shaft axial thrust.
QUALITY SEBEWAING MELT PUMPS FOR OVER 70 YEARS
The melt pump product line at Sebewaing is supported by experienced engineers, precision machinists, superior welding capabilities, a modern facility and decades of petrochemical pump experience. All pump components are manufactured, assembled, and tested by Sebewaing Tool and Engineering.
We've also accumulated decades of experience and knowledge repairing all types of petrochemical melt pumps. Typical repairs include bake-out, disassembly, failure analysis, design improvements, component repair or replacement, inspection, assembly and testing. Sebewaing welcomes customer involvement in all phases of the repair process.
Sebewaing can provide spare parts, a complete pump, or a complete pumping system with customized pump skid, gearbox, motor, and control system.
Sebewaing Melt Pump Features:
Performance design features

Customer specified
Materials

Carbon Steel
Stainless Steel
Heat resistant alloys
Corrosion resistant alloys

Gearing
Bearings

Standard
Custom
Reverse Engineered

Shaft Seal

Viscoseal
Barrier fluid
Packing
Lip
Mechanical

Heating medium

Operating Parameters

Viscosity: (Customer Specific)
Pressure: (Customer Specific)
Temperature: (Customer Specific)
Capacity: (Customer Specific)

Applications
Options

Drive system
Control system
Skid