Our Facility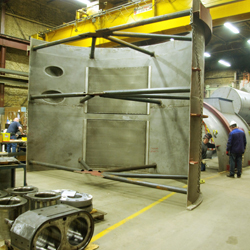 The Sebewaing Tool and Engineering headquarters is a modern 40,000 sq. ft. facilty that houses our manufacturing operation, sales offices, engineering offices, administration, purchasing department, quality control lab, warehouse, machine shop, welding department, heat treating department, plasma cutting department, and paint department. Our staff of 40 highly skilled Engineers, Designers, Tool and Die Makers, Machinists and Certified Welders provide a full range of engineering, design, manufacturing, (forging, heat treating, grinding, non-destructive testing, shot peening, ion-nitriding, Colmonoy coating, silver plating, etc.) and testing and repair services, including in-the-field technical support. Sebewaing Tool and Engineering is located along Saginaw Bay, 50 miles northeast of Saginaw, Michigan and 100 miles north of Detroit.
Sebewaing Equipment List
CNC MACHINING CENTERS
HAAS VF-6 VERTICAL MACHINING CENTER 28"X64" TABLE WITH 4TH AXIS
HAAS VF-2 VERTICAL MACHINING CENTER 16"X30" TABLE WITH 4TH AXIS
HAAS EC-3000 HORIZONTAL MACHINING CENTER 30"X 120" TABLE WITH 4TH AXIS
CNC TURNING CENTERS
SAMSUNG SL25ASY DUAL SPINDLE WITH LIVE TOOLING
LODGE AND SHIPLEY FLAT BED CNC 40.5" SWING X 136" CENTER TO CENTER
CNC CUTTING
MESSER CNC PLASMA CUTTER 72" X 144" TABLE
HYD-MECH CNC HORIZONTAL BAND SAW
MILLING/BORING MACHINES
GIDDINGS & LEWIS HORIZONTAL BORING MILL WITH 5" SPINDLE. TRAVEL 72" VERT X 84"
GIDDINGS & LEWIS HORIZONTAL BORING MILL WITH 4" SPINDLE. TRAVEL 52" VERT X 62" CROSS
(2) BRIDGEPORT 2HP MILL TRAVEL 9" X 48"
LATHES
MONARCH MODEL 30N WITH 30.5" SWING X 240" CENTER TO CENTER. RISERS INCREASE SWING TO 54"
LODGE & SHIPLEY BLUE CHIP 18 WITH 18" SWING X 72" CENTER TO CENTER
KING VERTICAL TURRET LATHE WITH 78" SWING X 62" UNDER RAIL.
GRINDING
CINCINNATI 14" X 72" OD GRINDER
VARIOUS SURFACE GRINDERS WITH MAX 12" X 40" TABLE CAPACITY
INSPECTION/BALANCING EQUIPMENT
FARO ARM
HOFMANN HL-22 2500 LB. CAPACITY DYNAMIC BALANCING MACHINE
CLIMATE CONTROLLED INSPECTION ROOM
BUILDING CAPACITY
TWO 7-1/2 TON OVERHEAD CRANES IN HEAVY MACHINING ROOM
10 AND 20 TON CRANE IN HIGHBAY/ASSEMBLY BAY WITH 20' FROM FLOOR TO CRANE AND INTERNAL LOADING DOCK
HEAT TREATING/STRESS RELIEVING
METALAX STRESS RELIEVING SYSTEM
LINDBERG OVEN CAPACITY 6' W X 8' L X 5' H MAX TEMP 1250 DEG