Engineering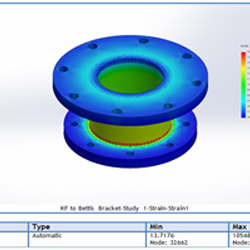 Sebewaing Tool and Engineering Company specializes in engineered solutions for large machines & machine components, pumps, valve automation & flow control (valve) hardware, and specialized machines for the Automotive, Petrochemical Processing (Plastics), Food & Beverage, HVAC, Pharmaceutical, Oil & Energy Production, Mining, Nuclear, Water/Waste Water, Marine, Agricultural, and the Paper & Pulp Industries.
Engineering Designs No Matter Your Needs
We offer a full range of Design interfaces with 5 MicroStation™ V8 XM CAD workstations and 2 SolidWorks™ (with Simulation Pro) workstations. We use Mastercam™ software for programming our CNC machines. We can convert any electronic drawing or export any file format for your specific needs.
Our experienced Staff of Manufacturing and Mechanical Engineers and Technicians are willing to talk with you or visit on site to meet your needs.
Other Sebewaing Engineering Services Include:
Custom Designs
Large-machine Design/Build
Valve Hardware Engineering
Plastics Processing Equipment
Reverse Engineering
Machinery Refurbishment
Application Engineering
Stainless Steel, Carbon Steels, exotic materials
ISO and NAMUR Specifications
Emergency Response
Full Service Machining
We offer a wide range of machining services: Large Turning, Boring, and Milling for custom machine building requirements, and can design and build custom machines up to 40,000 lbs.. We offer in-house production; plasma cutting, welding (Certified: GTAW, GMAW, FCAW, SMAW Structural, hardfacing, pressure, tool & die steels, etc.), heat treating, and painting.
Engineering Specialist serving the following Industries:
Petrochemical Processing
Food and Beverage
HVAC
Pharmaceutical
Oil and Energy production
Mining
Nuclear
Water / Waste Water
Marine
Agricultural
Paper and Pulp