Pelletizing Equipment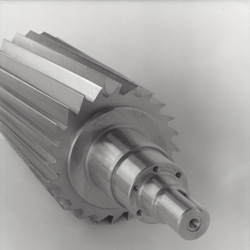 For nearly 80 years, Sebewaing has been a trusted supplier of premium, innovative pelletizers. Our equipment is made by us, in our facility in the USA, and used all over the world. Plastic strand pelletizers for many types of resins are available with capacities of up to 20,000 lb/hr. (Sebewaing has manufactured some of the largest plastic strand pelletizers in the world.) We were instrumental in the development of true helical cutting teeth and the application of hard-facing technology to the cutting tooth tips in the 1940s. Further developments of rotor tooth and bed knife cutting geometries have resulted in extremely efficient and reliable cutting processes. Construction materials include stainless steel for the wetted components.
High Quality Pelletizing Equipment
The robust design of Sebewaing strand pelletizers is focused on efficient cutting and long service life, and includes long life bearings and feed rolls to ensure the least possible required maintenance. The majority of strand pelletizers today are driven with variable frequency AC motors, but DC or hydraulic drive models are available as well. The Sebewaing strand pelletizer design includes features to reduce "fines" and pellet re-cutting for the best possible pellet quality.
Leaders in Pelletizer Equipment
As a leader in the development of milling and grinding of strand pelletizer teeth, Sebewaing provides helical, straight, hard-faced, and carbide tooth cutter heads for a vast array of materials, including standard resins and reinforced strands.
Decades of Pelletizer Equipment Knowledge
The strand pelletizer product line at Sebewaing is supported by experienced engineers, precision machinists, superior welding capability, modern facilities and decades of strand pelletizer experience. All of our strand pelletizer components are manufactured, assembled, and tested by Sebewaing Tool and Engineering. We have decades of experience repairing all types of strand pelletizers, including our competitors' machines, which includes clean-out, disassembly, failure analysis, design improvements, component repair or replacement, inspection, assembly and testing. Sebewaing welcomes customer involvement in all phases of the repair process.
Sebewaing can provide spare parts, a complete machine, or an entire strand pelletizing system with customized strand pelletizer skid, gearbox, motor, and control system.